SLC Heating & Cooling FAQS
FAQS
Our Salt Lake City HVAC Experts Answer Your Questions
Ninja Heating and Air is your one-stop-shop for all your heating and cooling needs. When you require HVAC services in Salt Lake City you can trust our licensed and insured professionals to provide top-quality solutions at affordable prices.
For your convenience, we have included some answers to our customers' most frequently asked questions. If you can't find the answer to your specific inquiry, reach out to our knowledgeable team at (801) 997-8909 or contact us online.
Your Title Goes Here
Your content goes here. Edit or remove this text inline or in the module Content settings. You can also style every aspect of this content in the module Design settings and even apply custom CSS to this text in the module Advanced settings.
Q: HOW CAN I MAINTAIN MY FURNACE & AIR CONDITIONER?
A: The most important thing a homeowner can do for their HVAC system and their indoor air quality is to change the unit's filter on a regular basis. Every home is different, but most professionals will recommend filter replacement every month or two. This ensures that no debris gets sucked through the system and that your furnace and air conditioner have adequate airflow. We also recommend getting your system maintained by a professional yearly. At Ninja Heating and Air, we perform in-depth diagnostic checkups on systems to make sure you don't run into any unnecessary breakdowns. Being a member of our Home Health Plan provides you with a furnace tune-up in the fall and an A/C tune-up in the spring, and you don't even have to remember because we call you!
Q: HOW CAN I IMPROVE MY HOME'S INDOOR AIR QUALITY?
A: These are several actions you can take to reduce the indoor allergens in your home that are triggering respiratory problems and other health issues. Some of the simple tasks that you can perform on your own include regularly changing your HVAC air filters, vacuuming carpets, clearing gutters, washing bedding, and cleaning drapes. There are also several ways our HVAC professionals can help you improve the quality of your home's air, including:
Duct cleaning
REME Halo Air Scrubber
Air purifiers
Humidifiers and dehumidifiers
Air filters
Whole house purification systems
Q: HOW DO FURNACE & AIR CONDITIONER EFFICIENCY RATINGS WORK?
A: Furnaces and air conditioners are rated separately for their efficiency. A furnace is rated by AFUE (Annual Fuel Utilization Efficiency). It's basically a measurement of how much heat you get per every dollar of gas you buy. Most older furnaces are typically 80% efficient. This means that for every dollar of gas you spend, you will get 80 cents worth of heat. New furnaces will range anywhere from 80% efficient all the way up to 98% efficient. Air conditioners are rated by what is called SEER, which stands for Seasonal Energy Efficiency Ratio. This is essentially miles per gallon and measures the electricity your air conditioner will consume to cool your home. The lower the SEER rating, the less efficient, the higher the SEER rating, the more efficient the air conditioner. The lowest SEER rating equipment available in Utah is 13 SEER, but it can go all the way up to 28 SEER.
Q: HOW DO I KNOW WHAT SIZE HVAC UNIT I NEED?
A:One of the most critical aspects of choosing a new heating or AC system is knowing what size equipment your home will need. Our industry-standard is to perform a very complicated heat load application that takes into account the insulation in the walls, the build of the house, the direction it is facing, as well as the windows and doors. This calculation will tell you what size system your home needs.
Q: WHAT HAPPENS IF MY HVAC SYSTEM IS THE WRONG SIZE?
A: If someone guesses what size heater or AC system you require, and you get one that is too small for your home, the unit will run all day long to try to heat or cool the home but won't manage to get to the temperature you set on the thermostat. On the other hand, if the system that gets installed is too big, you will cool or heat the house too quickly. This causes uncomfortable temperature differences between rooms because the system doesn't run long enough to mix all the air in the home. It also puts too much strain on the system and will cause it to fail prematurely. You wouldn't let your tire guy put brand new expensive tires on your car when he's just guessing the size, right? On every in-home estimate, we perform a heat load calculation to ensure you get the right size unit for your home.
Q: DO I NEED TO HAVE A PROFESSIONAL INSTALL MY NEW HVAC SYSTEM?
A:Installation is 90% of what will make your heating and cooling system last. Having qualified professionals installing your equipment is important. This is a job that involves hundreds of different steps and finely tuned processes to make sure your system lasts a full, reliable lifetime instead of failing after a couple of years. Installers in Utah are required to have RMGA certifications (this is a license to work on major natural gas appliances in Utah). They are also required to have EPA certifications, and if they're NATE certified, that is basically like having a degree in HVAC. When we install your new system, we will ensure the job is done correctly. From adjusting the airflow to pressure checking the refrigerant lines, you can count on us for quality installation services.
TRUST THE PROS!
Skilled & Speedy Focused on Customer Satisfaction
We're here to take care of our customers. We build connections through great service, trust and humor. Over 15 Years of Experience - We're Ninjas for a Reason
We are licensed and insured for your safety and only employ the friendliest, most qualified and experienced technicians.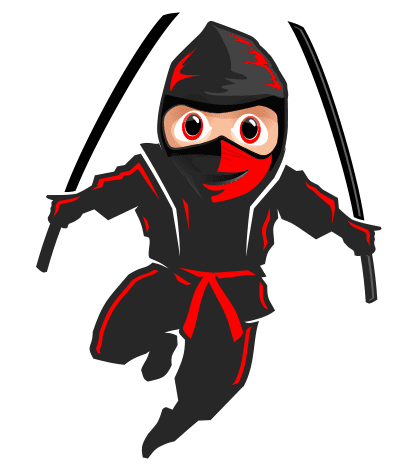 24/7 Emergency Service Available
We offer same day service as well as emergency service, because emergencies don't wait! Locally Owned and Family Operated
As part of your neighbors and citizens in our community, we give back to local causes.
TOO GOOD TO KEEP HIDDEN
Hear Why Our Customers Love Us!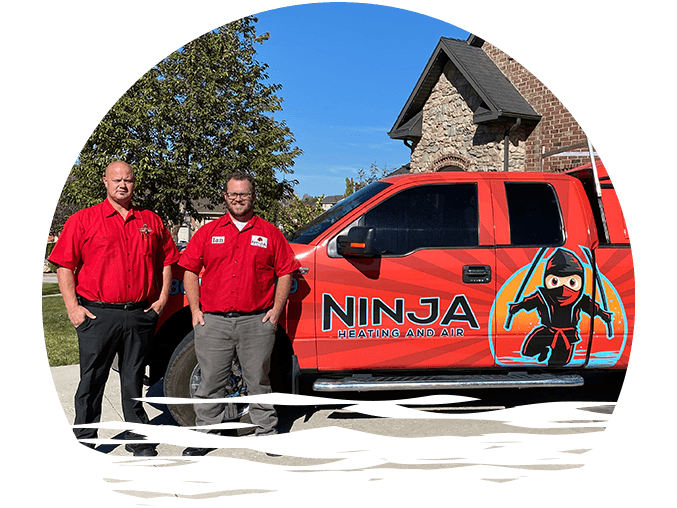 If you're still looking for someone to service your HVAC then stop now and call Ian.
I just can't believe the customer service! I would recommend these guys to anybody!
Thanks a million times over!
Just a great experience overall.