Air Duct Cleaning in Salt Lake City
Licensed Duct Cleaning & HVAC Technicians in SLC
Many people are unaware that the air within their houses is actually at least three times more contaminated than the air outside. This is why we take pride in providing air duct cleaning in Salt Lake City. It helps you live more comfortably and crucial to your health to breath in clean air. Clean air ducts can improve the respiratory health of yourself and any other occupants in your home, from babies to family pets.
Houses today are built to be energy efficient, which means they are airtight. The trapped air allows pollutants such as dead skin cells, dander, organic volatiles, viruses, dust mites, and mold to build up and get trapped within the ducts of your HVAC system until they finally come out the vents. Ninja Plumbing, Heating and Air can provide excellent duct cleaning in Salt Lake City to keep you and your family safe from hazardous contaminants, with service areas ranging from Park City to Saratoga Springs, Sandy to South Jordan.
CONTACT US
 

NOW AT

 

(801) 997-8909

 

SO OUR DEPENDABLE TECHNICIANS CAN COMPLETELY CLEAN YOUR AIR DUCTS OF ANY DANGEROUS PARTICLES AND POLLUTANTS.
How the Air Duct Cleaning Process Works
When it comes to cleaning your air ducts, you can rely on our experienced technicians to do a thorough job of completely clearing out the whole HVAC system.
One of the most advanced methodologies for cleaning air ducts is the tried-and-true three-step cleaning process, which includes:
Making sure your negative air system is secured

 

– Using three sets of filters makes it possible to catch even tiny objects in addition to larger items that have been obstructing airflow.
Sweeping, vacuuming, and scrubbing

 

– A motorized whip provides a constant scrubbing motion until all the vents' interiors are clean. The debris is then swept along to the vacuum that uses continual negative airflow, so all the debris can be dumped out.
Deodorizing and sanitizing

 

– In addition to sweeping out larger particles, it is important for highly developed fogging machines to spray disinfectant throughout the ducts. This not only leaves your vents and ducts fresh, clean, and free of germs and bacteria, but it also keeps fungi and mold from growing in the future.
What to Expect When You Get Your Air Ducts Cleaned?
When you get your air ducts professionally cleaned you should expect a technician to come equipped when the latest technology in the industry to get the job done. The tools used will help remove any debris and dirt without causing any significant damage to your unit. Additionally, new filters will be installed and a thorough cleaning will be done to help your have the cleanest air in your home. This is all followed by a final test to ensure all is running smooth and you are good to go.
TRUST THE PROS!
Skilled & Speedy Focused on Customer Satisfaction
We're here to take care of our customers. We build connections through great service, trust and humor. Over 15 Years of Experience - We're Ninjas for a Reason
We are licensed and insured for your safety and only employ the friendliest, most qualified and experienced technicians.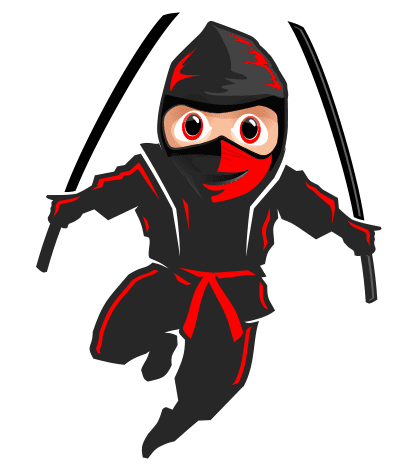 24/7 Emergency Service Available
We offer same day service as well as emergency service, because emergencies don't wait! Locally Owned and Family Operated
As part of your neighbors and citizens in our community, we give back to local causes.
The Advantages of Cleaning Your Air Ducts
There are countless advantages of having your air ducts cleaned on a regular basis. These include:
Having improved health, more energy, and better well-being
Not having to spend extra money on medications or hospital bills
Enjoying a more efficient HVAC system which reduces costs by up to 20% annually
Decreasing symptoms of allergies and colds
Air Quality You Can Rely On
Everyone wants to have a well-built house that keeps in warm air during the winter and cool air during the summer, without letting energy escape. While this is great for your heating and cooling needs, as well as your ability to save money on your energy bills, it is not so great for your lungs.
Eventually, dirt and feces particles, dust, microbes, mold spores, dander, and bacteria will overflow your vents to potentially cause illnesses and allergies. However, if you turn to our trusted team at Ninja Heating and Air, you can have peace of mind knowing your home is benefitting from superb duct cleaning in Eagle Mountain.
CALL US TODAY AT
 

(801) 997-8909

 

OR

 

CONTACT US ONLINE

 

FOR 24/7 SERVICE WHEN YOU HAVE AN AIR DUCT EMERGENCY ON YOUR HANDS.
TOO GOOD TO KEEP HIDDEN
Hear Why Our Customers Love Us!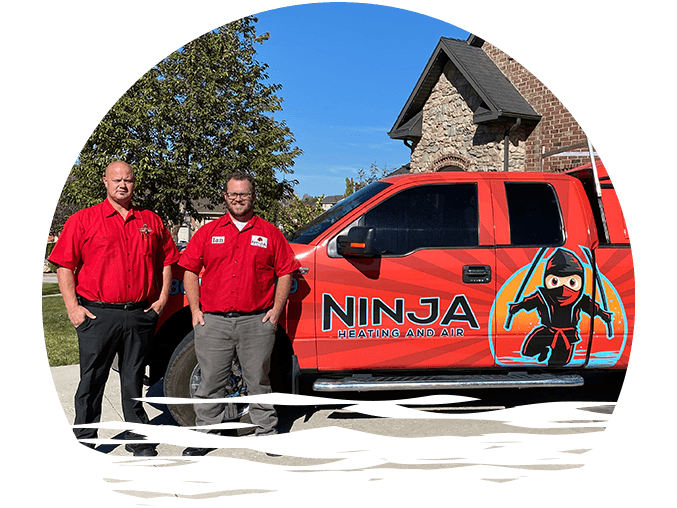 If you're still looking for someone to service your HVAC then stop now and call Ian.
I just can't believe the customer service! I would recommend these guys to anybody!
Thanks a million times over!
Just a great experience overall.