24 Hour Heating & Air Emergency HVAC Services In Salt Lake City
24 HOUR HVAC EMERGENCY SERVICES SALT LAKE CITY
24/7 SLC Heating & Air, HVAC Repair Services in Utah
Sometimes, no matter how much we prepare, the worst scenario still happens. When it comes to furnace or air conditioner breakdowns, it always seems like these hit us at the least convenient times – particularly when we need our HVAC units the most. If your AC stops running during the most scorching summer afternoon, or your heater shuts off in the middle of a freezing night, who should you call? Do not fear when an emergency strikes; you can count on our reliable team at Ninja Heating and Air to save the day!
We know just how essential it is to get rapid, quality HVAC emergency services in Salt Lake City, with emergency repair services extending from Park City to South Jordan, Sandy to Saratoga Springs, not only for your comfort but for your safety as well. That is why we are open all hours of the day and night for emergency calls, every single day of the week.
Common AC Emergency Repairs
If you are a resident living in Utah, you know the temperatures can become extreme, especially during the summer. Having a sudden breakdown is not only uncomfortable but could cause dangerous conditions for those with medical issues or those who are especially sensitive to the heat. Our technicians strive to get your repairs resolved as rapidly as possible to return your home to its safe, cool, and comfortable state.
Some examples of AC repairs we perform for our customers include:
Fixing your refrigerant charge

 

– If you have low refrigerant, your AC will have trouble cooling anything. Filling up your refrigerant if it has leaked out is one quick fix to restarting your cooling system.
Cleaning and repairing drainage

 

– Throughout the cooling process, a lot of condensation gathers. In order to function correctly, your AC system needs to get rid of all the extra moisture. Sometimes when the pump gets clogged by organic growth developing in the moisture, or debris that has collected in the condensation, it will become so blocked that the system could shut off.
Repairing broken fans

 

– When your compressor fan is malfunctioning or broken, it is unable to circulate cool air, which is why you might experience warm air being blown all over your home.
Common Heating & Furnace Emergency Repairs
But as you know, when the weather cools down the fun just begins with those weather forecasts that make you think, no…that temperature has to be a joke right? Furnace & heating repair, even replacement can hit unexpectedly and urgently at any time. Ninja Heating & Air is here when you need us to warm up the house with 24 hour emergency heating & furnace repair and replacement. Ninja Heating & Air won't leave you out in the cold.
Some examples of heating & furnace repairs we perform for our customers include:
Full-Service Furnace and Heater Repair
Fan blade repair
Burner repair
Electrical repair
Recalibrating thermostats
Replacement of fan belts
Replacement of blower motors
TRUST THE PROS!
Skilled & Speedy Focused on Customer Satisfaction
We're here to take care of our customers. We build connections through great service, trust and humor. Over 15 Years of Experience - We're Ninjas for a Reason
We are licensed and insured for your safety and only employ the friendliest, most qualified and experienced technicians.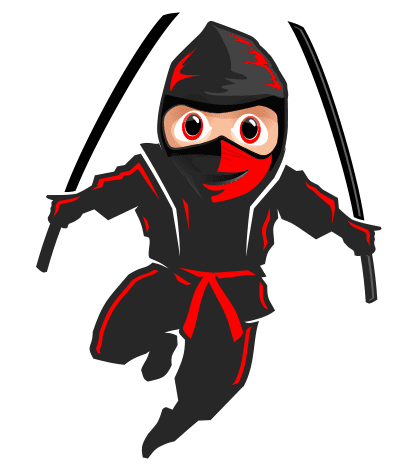 24/7 Emergency Service Available
We offer same day service as well as emergency service, because emergencies don't wait! Locally Owned and Family Operated
As part of your neighbors and citizens in our community, we give back to local causes.
Troubleshooting Heater Problems
Utah may be primarily known for its heat, but anyone who lives here knows that the desert nights can get quite cold as well. If your system can't decide between blowing hot or cold air, then you could be facing a failing thermostat. When your thermostat is having issues, it can cause your entire system to operate erratically.
Just like your AC, dirty filters or dusty components have difficulty running efficiently, and will eventually cause the system to break down. Alternatively, if your pilot light has changed color or if you smell gas, this could indicate a dangerous carbon monoxide leak. Immediately open your windows and doors, get outside, and call our emergency technicians for aid.
Emergency Resolutions for All Times & Seasons
You will not need to sweat or freeze a moment longer than necessary as soon as our professionals are on their way, no matter the day of the week or time of night. After all, emergencies might hit at 3 a.m. or 3 p.m., on a weekend or a holiday, and you cannot just wait around for hours, sweating in the summer or freezing in the winter. Rely on Ninja Heating and Air to give you the relief you need right away.
CALL US TODAY AT
 

(801) 997-8909

 

OR

 

CONTACT US ONLINE

 

TO EXPERIENCE SUPERB SUPPORT FROM OUR HVAC EMERGENCY SERVICES IN EAGLE MOUNTAIN.
TOO GOOD TO KEEP HIDDEN
Hear Why Our Customers Love Us!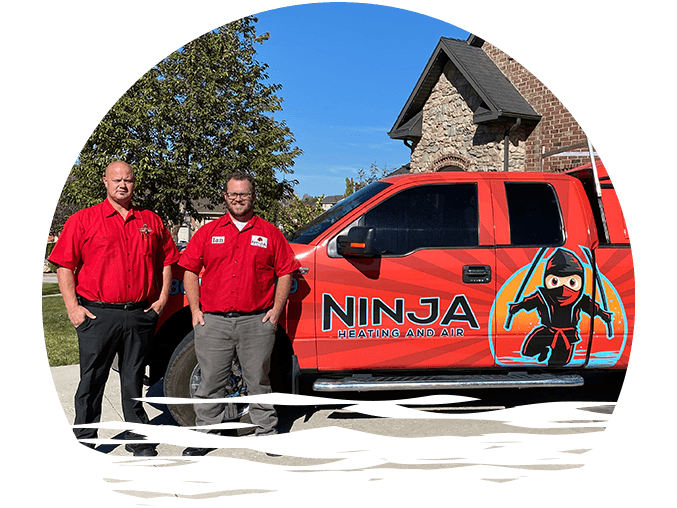 If you're still looking for someone to service your HVAC then stop now and call Ian.
I just can't believe the customer service! I would recommend these guys to anybody!
Thanks a million times over!
Just a great experience overall.